Dedicated Telephone Answering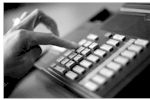 There are many advantages to this service:
· A Dublin telephone number exclusive to your company
· A prestigious Dublin 4 mailing address
· Professional telephone answering in your company's name
· Transfer of your calls to a number of your choice or holding of messages for your collection
· Immediate notification of messages by e-mail or fax if so advised by your company
· A personalised digital mailbox allowing remote collection of voicemail messages left after close of business
· Receipt of mail, couriers and faxes for your company
· Forwarding of messages, mail and faxes on a daily/weekly basis as advised by your company
· Couriers, mail or faxes sent on your behalf from your Dublin office
· Use of Boardroom/meeting room for visits to Dublin
· Parking facilities for visits to Dublin, subject to availability
· Access to all additional services provided by the Mespil Business Centre at competitive rates.
Don't need a dedicated telephone number? Use our main numbers instead for a lower cost option.
– Business Address
– Mailing Address, Fax and e-Mail as individual services.
The business address facility at Mespil Business Centre is ideal for small and medium sized enterprises, as a low cost alternative to setting up an office in Dublin.